---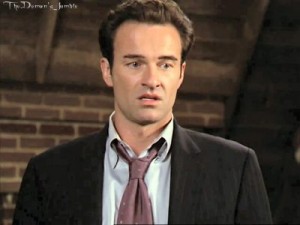 ROZHOVOR S JULIANOM MCMAHONOM
Colea Turnera by ste mohli nazvať exmanželom z pekla- doslova. Cole, napol človek, napol démon (naviac právnik) sa stane Zdrojom zla po tom, čo sa ožení s dobrou čarodejnicou Phoebe. Aj keď čarodejnice Zdroj zla porazili a tí dvaja sa rozviedli, Cole neustále zvádza vnútorný boj medzi dobrom a zlom. To je pre Austrálčana Juliana dobrá herecká skúška: ,, Cole si prešiel citovo aj fyzicky náročnú cestu. Samozrejme musím povedať, že tá temná stránka mojej postavy je veľmi zábavná. Človek musí nahlas kričať a robiť podobné vylomeniny. Ale medzi všetkými postavami sú také dynamické rozdiely, že by som sa zabával aj bez toho..." hovorí Julian.
Pred CHARMED sa Julian najviac preslávil vedľajšou úlohou v seriáli Profiler. Keď sa zápletka Cole-Phoebe uzavrela, Julian si zahral vo filme Fantastic 4, v ktorom dostal úlohu zloducha Victora Von Dooma a dostal jednu z hlavných úloh v momentálne populárnom seriáli Plastická chirurgia.
Už som inde:
Stále si rád pozriem austrálsky seriál Home and Away- seriál, v ktorom Julian hral svoju prvú seriálovú úlohu v rokoch 1989-1991. Hlavne, keď som v Anglicku. Ale nenapadá ma, čo by som tam robil teraz. Vtedy som po hlave vpadol do hrania, ale až neskôr som to začal robiť vášnivo.
Temná strana duše:
Rád som prijal príležitosť zahrať si postavu, ktorá má aj svoju temnú stránku aj napriek tomu, že diváci sa s ňou nestotožňujú. Človek totiž na takýchto postavách hľadá vždy tú svetlejšiu stránku.
Hral si v mnohých seriáloch. Ktorý ti najviac prirástol k srdcu?
Julian: Mal som rád všetky. V seriály Čarodejnice som s celým štábom, ako aj s Alyssou, Shannen a Holly vychádzal veľmi dobre. Po nakrúcaní sme často žúrovali. Ďalší seriál už bol trochu zložitejší.
Prečo?
Julian: Bol veľmi obľúbený, navyše z lekárskeho prostredia, a preto si ma veľa ľudí mýlilo s hranou postavou. Stalo sa, že sme večerali v jednej reštaurácii a prišla ku mne dáma s otázkou, či má, podľa mňa, dobre urobenú plastiku tváre.
Čo si jej na to povedal?
Julian: Podišiel som k nej bližšie, dobre som si ju pozrel a potom som prácu kolegu pochválil.
Takže si schopný urobiť si z toho srandu?
Julian: Jasné, ale iba vtedy, ak mám na to náladu. Mimochodom, je to takto jednoduchšie, ako keby som to mal vysvetľovať. Jednou vetou sa to dá ukončiť a hotovo.
Ale na druhej strane je to dobrá príležitosť na zoznámenie.
Julian: Áno, ale ja som dobrý chlapec a nevyužívam to. Mimochodom, také ženy, ktoré sú schopné uveriť, že v reálnom živote som plastický chirurg, ma nezaujímajú. Na to, aby ma ulovili, potrebujem viac ako plné prsia a tvár bez vrások...
Možno len málo ľudí vie, že si bol manželom Danni Minogue.
Julian: Už sme rozvedení 10 rokov, ale kamarátstvo ostalo. Rád končím svoje vzťahy inteligentne- Danii je v tom taká istá. Často si voláme, takže je všetko ok.
V tvojom novom filme ( Fantastická štvorka) hráš obludu- ako si sa s tým vnútorne vyrovnal?
Julian: Po dobrom doktorovi je zaujímavé hrať postavu zlého doktora Dooma. Fantastická štvorka sa ma pokúsi zastaviť, ale to , či sa im to podarí alebo nie, už musíte zistiť sami!
zdroj:http://thecharmed.xm.com/
Komentáře
Přehled komentářů
---
---